Come to Jesus
Christian Books by Pastor Don Herbert
Australian Christian Pastor and Hospital Chaplain

This site is dedicated to Don Herbert books. Don was a Christian Minister and a hospital chaplain. During his short life he helped hundreds of ill and dying people.

Don was not a preacher he was a doer. He spoke as a friend, sharing his experiences in coping with terminal illness. His style of grief counselling was unique. He spoke about Jesus and read from the Bible. He was certainly of one the greatest Australian ministers I have ever met. One Christian pastor who would certainly receive Jesus approval.,

Don wrote several Christian books which speak about faith and courage and determination. These books are not available in Christian or religious bookshops in Australia.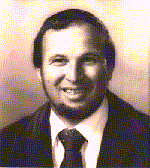 In memory of Pastor Don Herbert
A good Christian and a great friend

Don wrote many beautiful Christian books which have been a source of inspiration to many lonely, sick and dying people. Please help Pastor Don Herbert continue his ministering work. Buy and help distribute Don Herbert's Christian books.

Click on the Bible to view
Don Herbert Christian Books

Mail your order for Christian Books to
Ms. Zelma Herbert
11 Tepper Circuit Kambah ACT 2902 Australia
or Phone 02-62317819







Welcome you are visitor


Other Links to Christian Books